Description
UPZ RC12 RCR – new hard snowboard boots, revolutionary "in-mould technology", combining very stiff and very soft parts in one piece. The RC12 gives you a direct-lateral performance, without losing flex and comfort. The boot is extremely stiff, where it should be and soft, where it needs to be. And the new technics gives you a lot of adjustment-possibilities (for every rider's style).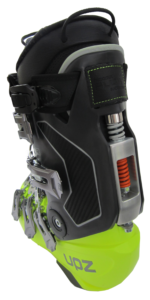 Benefits of the new RCR BOX
More direct at Front Side Turns
More direct move from Front Side to Back Side
Forward flex spring 10 mm longer (length 43mm)
Stepless adjustable forward lean via TX30 screw. The adjustment does not influence the springs
Independent adjustable backward flex
Independent adjustable forward flex
Lighter, than the standard ride/relax box
RCR upgrade:
RCR stiff cuff
Shoxxter Rece Plus
RCR performance spoiler
Stiff outer tongue
Top racing boot for competitors and experts. RCR is equipped with RCR Performance Spoiler, RCR Cuff super stiff, Outertongue silver hard and Shoxxter PLUS Race Strap. Made of very light PU material, which doesn't get stiffer in the cold – flex remains always the same. With 5 aluminum buckles, very strong and micro-adjustable plus power strap on top.
RC12 NEWS:
New shaped, extra-strong race-buckles with improved springs
New toe adapter with super stiff binding part and anti-slip/snow repellent walk part
Stiffer Carbon-Compound cuff-inlay (+25%)
New adjustable and shock-dampening Shoxxter Strap
Lower-Shell in new PA12 material (+10% stiffer and even stronger)
RC12 HIGLIGHTS
Cuff with "in mould technology". The cuff comes not fully overlapped, prevents Outer-Tongue side-movement. Features best harmonic and more direct flex.
The cuff comes higher outside and a little bit higher inside (for better pressure dissipation). The Shoxxter Straps run over the cuff (both inside and outside)
The cuff-buckle positions, adjustable via TX25 screws
Super stiff material (for Tongues and cuffs) with best notch impact strength
Standard heel adapter, stiffer and lighter, new profile
Race heel adapter (exactly the same height like NW) for brutal direct lateral boot-binding connection
3 different forward flex springs (easy to change)

soft/fluorescent yellow
medium/white
super stiff/fluorescent orange

3 different outer tongues (easy to change)

Red soft
Black medium
Silver stiff